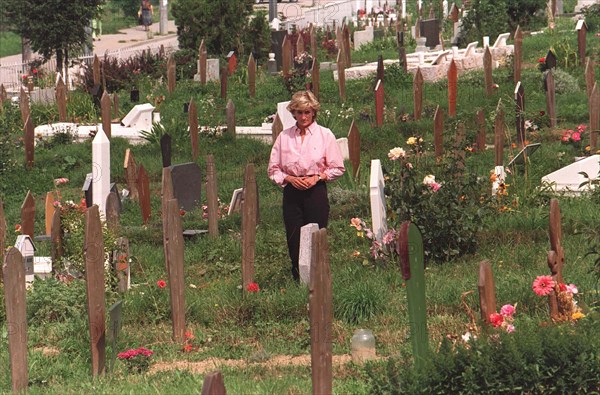 Sujet
Princess Diana Overseas Visits Bosnia
Légende
Diana, Princess of Wales makes a three day visit to Bosnia - Herzegovina as part of her campaign to raise awareness about the devastating effects landmines have on peoples lives and to call for a complete ban on the production, sale and use of land mines.
The trip was organised by the American-based Landmine Survivors Network.
Here she is pictured during an unscheduled stop at the Lav cemetery in Sarajevo on the final day of her visit.
10th August 1997.

Info+
Mirrorpix
Crédit
Photo12/Mirrorpix
Notre référence
MPX22A00_096
Format disponible
16,7Mo (1,2Mo) / 25,2cm x 16,6cm / 2972 x 1961 (300dpi)
Connectez-vous pour télécharger cette image en HD