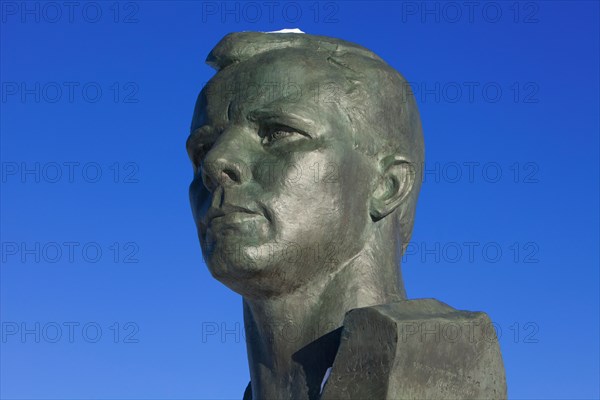 Sujet
Bust of the world's first human in space Soviet cosmonaut Yuri Gagarin (1934-1968) at Cosmonauts Alley in Moscow, Russia
Légende
Yuri Alekseyevich Gagarin (9 March 1934 - 27 March 1968) was a Russian Soviet pilot and cosmonaut. He was the first human to journey into outer space, when his Vostok spacecraft completed an orbit of the Earth on 12 April 1961.
Gagarin became an international celebrity, and was awarded many medals and titles, including Hero of the Soviet Union, the nation's highest honor.

Vostok 1 marked his only spaceflight, but he served as backup crew to the Soyuz 1 mission (which ended in a fatal crash). Gagarin later became deputy training director of the Cosmonaut Training Center outside Moscow, which was later named after him. Gagarin died in 1968 when the MiG-15 training jet he was piloting crashed. The Yuri Gagarin Medal is awarded in his honor.

Info+
Photographe : DE ROCKER
Crédit
Photo12/Alamy/DE ROCKER
Notre référence
LMY21T01_C15E0D
Utilisation
uniquement en France
Format disponible
60,2Mo (1,8Mo) / 47,5cm x 31,7cm / 5616 x 3744 (300dpi)
Connectez-vous pour télécharger cette image en HD