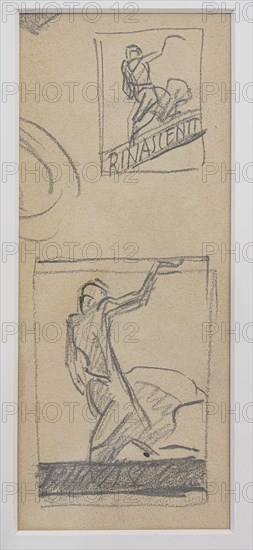 Sujet
"La Rinascente"
Légende
"La Rinascente", bozzetto preparatorio di Marcello Dudovich, anni Trenta del Novecento, matita su carta.

[ENG]
"La Rinascente", sketch for the Illustration for an advertising poster by Marcello Dudovich, Thirties of XX century, pencil on paper.
Collezione privata, Milano (MI)/Milan, Lombardia/Lombardy, Italia/Italy

Crédit
Ghigo Roli/Photo12
Notre référence
GHR21A02_114
Format disponible
59,5Mo (3,2Mo) / 26,2cm x 56,9cm / 3097 x 6720 (300dpi)
Restrictions
Pour toute utilisation, il revient à l'utilisateur de s'assurer qu'il a toutes les autorisations nécessaires des entités représentant les artistes ou leurs ayants droit.
Connectez-vous pour télécharger cette image en HD